The Pinkbike Podcast: Episode 105 – The 3-Bike Budget Challenge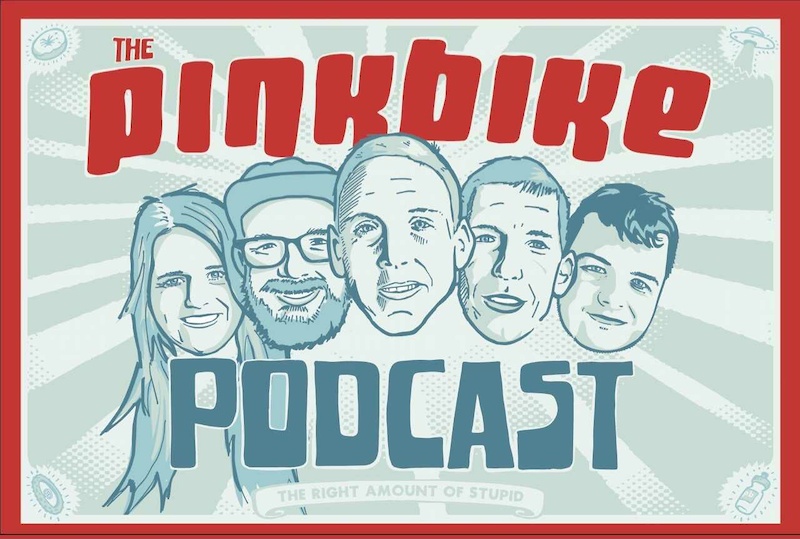 Asking someone what three cars they would choose to have in their dream garage is a fun game, but it quickly becomes a lot harder when you're given a meager budget – ie. say realistic – with which to work. And while the numbers are much smaller when we apply the same question to mountain bikes, our carbon fiber toys can still cost an eye-watering amount. Ten thousand dollar bikes are almost always great, but do you know what's a lot harder? Find a decent machine for $1000 that won't require you to spend more fun tokens to upgrade it as you progress.
Today's show sees Henry Quinney, Mike Kazimer, Brian Park and myself compete in the 3 Bike Challenge where we choose our favorite rigs at three different prize tiers: $1,000, $3,000 and 6 US$000.
There are only a few rules to this game. First of all, you are allowed to go over your budget a bit if necessary because, just like in the real world, sometimes you find something better and decide to save for a while. an extra month to afford it. Especially if it means getting a dropper post or working disc brakes, right? Second, buying used is definitely an option to consider, especially at US$1,000 and US$3,000. Finally, the bikes don't need to be in stock or we wouldn't have a podcast – it's just a fun thought experiment.
Levy's three-bike garage includes a Sombio Shovel 3, Polygon's Siskiu T8 and the new Santa Cruz Blur TR STR, while Henry chose a hardtail Ragley Marley, Commencal's Trail, then Transition's Sentinal for his top bike. of range. Kazimer dove into PB Buy & Sell for his 2012 Specialized SX Trail, but went new for his Specialized Status and Canyon Torque CF8.
Which bikes would you choose at $1000, $3000 and $6000?
THE PINKBIKE PODCAST // EPISODE 105 – THE 3 BIKE BUDGET CHALLENGE
February 10, 2022
Three bikes, three price points.
With a rotating cast of the editorial team and other guests, the Pinkbike Podcast is a weekly update on all the latest stories from the world of mountain biking, as well as candid discussions of technology, racing and everything rest.
---
Previous Pinkbike Podcasts
Episode 1 – Why are bicycles so expensive?
Episode 2 – Where the hell is the Grim Donut?
Episode 3 – Pond Beaver Tech
Episode 4 – Why is every bike a trail bike?
Episode 5 – Can you trust the bike reviews?
Episode 6 – On-bikes or under-bikes?
Episode 7 – Wild Project Bikes
Episode 8 – Do we need an even bigger wheel size?
Episode 9 – Why are we doing a field trial in multiple countries?
Episode 10 – Getting Nerdy About Bike Setup
Episode 11 – Are We Going to Run This Year?
Episode 12 – What future for bike shops?
Episode 13 – Are the Bikes Too Regular Now?
Episode 14 – What Bikes Would Pinkbike Editors Buy?
Episode 15 – What's Holding Mountain Biking Back?
Episode 16 – Who's Your MTB Hero?
Episode 17 – Insider to XC Field Testing
Episode 18 – The electronics on your mountain bike: good or bad?
Episode 19 – The episode of the semi-rigid
Episode 20 – Mountain Biking Conspiracy Theories
Episode 21 – Things We Got Wrong About
Episode 22 – Does Your Riding Style Match Your Personality?
Episode 23 – Grim Donut 2 is online!
Episode 24 – Why even buy a DH bike?
Episode 25 – Fall Field Test Preview
Episode 26 – The Three Most Important Mountain Bikes
Episode 27 – The World Champions Special
Episode 28 – All About Women's Bikes
Episode 29 – Freeride or Die
Episode 30 – Would You Rather?
Episode 31 – Tips and tricks for riding in wet weather
Episode 32 – What needs to change in the bicycle industry?
Episode 33 – Behind the Scenes at Pinkbike Academy
Episode 34 – Griller Levy on Field Test Track Bikes (and His Tournament)
Episode 35 – Story Time – Stranger Than Fiction
Episode 36 – Griller Kazimer on Field Test Enduro Bikes
Episode 37 – The privateer season 2020 with Ben Cathro
Episode 38 – Editors Defend Their Top Picks of 2020
Episode 39 – Predicting the Future of Mountain Biking
Episode 40 – The Pinkbike Awards!
Episode 41 – Race Rumors and Team Changes
Episode 42 – The Guilty Pleasures of Mountain Biking
Episode 43 – Dangerholm's Craziest Custom Mountain Bikes
Episode 44 – Mountain Bike Suspension Decoded
Episode 45 – What Makes a Good Traveling Companion
Episode 46 – The RockShox Zeb vs. Fox 38 Deep Dive
Episode 47 – High Pivot Bikes: The Good, the Bad, and the Why?
Episode 48 – Rides That Gone Terribly Wrong…and Why It Made Them So Good
Episode 49 – What's the best DH bike?
Episode 50 – Are Bikes Really Getting Cheaper? (Value Bike Field Test Preview)
Episode 51 – Should MTB Media Release Spy Photos?
Episode 52 – Our Most Embarrassing ATV Moments
Episode 53 – Should Climbers Always Have the Right of Way?
Episode 54 – The Best and Worst ATV Product Marketing
Episode 55 – Big Dumb Rides & Stay Motivated
Episode 56 – What were the most important mountain bike inventions?
Episode 57 – What were the best (and worst) trends in mountain biking?
Episode 58 – Busting Mountain Biking's Biggest Myths
Episode 59 – Surprises and Spoilers on a Bike Tour
Episode 60 – What Kind of Mountain Biker Do You Want to Be?
Episode 61 – Athlete Pay, Lycra, Equality and More from the State of Sport Survey
Episode 62 – Editor Preferences and Why They Matter
Episode 63 – Our Best (and Worst) Bike Buying Advice
Episode 64 – Who's on Your Rushmore MTB Mount?
Episode 65 – The episode of the semi-rigid
Episode 66 – The Best and Worst of Bike Repair
Episode 67 – The Story of Mountain Biking's Most Interesting Man: Richard Cunningham
Episode 68 – Who Are the Unsung Heroes of Mountain Biking?
Episode 69 – The Good, Bad, and Weird Bikes We Own – Part 1
Episode 70 – The Good, Bad, and Weird Bikes We Own – Part 2
Episode 71 – The Story of Mountain Biking's Most Interesting Man: Richard Cunningham – A Special Pinkbike Podcast Part 2
Episode 72 – Hey Outers!
Episode 73 – Details That Matter…and Others That Shouldn't
Episode 74 – The Best Trails We've Walked and What Makes Them So Special
Episode 75 – ATV brands waste money
Episode 76 – ATV Originals and Imitations
Episode 77 – Interview with Outside CEO Robin Thurston
Episode 78 – Modern geometry explained
Episode 79 – What is the future of eMTBs?
Episode 80 – The best vehicles for mountain bikers
Episode 81 – You Have Questions, We (Maybe) Have Answers
Episode 82 – Behind the Scenes of the Field Test
Episode 83 – Is carbon fiber part of your mountain bike?
Episode 84 – RockShox Computer Controlled Suspension Explained
Episode 85 – Is Red Bull Rampage Too Slopestyle?
Episode 86 – Greg Minnaar on the Honda DH Bike, World Cup Races and Staying Fast Forever
Episode 87 – How to Love Riding When It's Cold and Wet
Episode 88 – Mountain Biking on a Budget
Episode 89 – The Derailleur Pickle
Episode 90 – Is Supre the future of trouble-free transmissions? (with Cédric Eveleigh of Lal Bikes)
Episode 91 – Riding Every Double Black in the Whistler Bike Park with Christina Chappetta
Episode 92 – Does the Weight of the Bike Really Matter?
Episode 93 – Staying Motivated and Overcoming Burnout
Episode 94 – PBA Competitor Tori Wood on Her First Race and Finding the Right Mindset
Episode 95 – Downhill Bike Debrief in the Field
Episode 96 – PBA competitor Israel Carrillo talks about riding in Mexico and why it's not always about speed
Episode 97 – Can we predict the future of mountain biking?
Episode 98 – Field Test Track Bike Debrief
Episode 99 – New Year, New You?
Episode 100 – Q&A with PB Editors
Episode 101 – Mountain Bike Shows Explained
Episode 102 – Should MTB Media Go to Press Camps?
Episode 103 – Secrets of the World Cup Pits with Henry Quinney
Episode 104 – Lachlan Morton explains how to be a happy bike racer and the world's longest climb