Royal Enfield Himalayan Scram 411: delivery and first impressions
I will definitely never use the bike for touring, the max it would go is Lonavala, so touring credentials or high-end grunt didn't mean much to me.
BHPian tp_dominator recently shared this with other enthusiasts.
I got this beauty on May 23rd. I am also someone who is coming back to cycling after a long time – almost 9 years. My priorities for the bike were clear:
It should be easy to ride daily in traffic (if need be).
The suspension should be comfortable and supple—that was most important considering my last serious bike was the Ninja 250R.
Not manic in nature and smooth power delivery (read good low-end and mid-range grunt).
Budget between 2-3 lakhs on the road – last year I was looking in the 8-10 lakhs range but thought that would be overkill if I didn't drive a lot.
You don't need an ADV-style or trail-focused bike—the ADV-style is only considered for suspension superiority over other bikes.
I will definitely never use the bike for touring, the max it would go is Lonavala, so touring credentials or high-end grunt didn't mean much to me.
I have checked almost every bike in the segment, below is just a brief about them (in no particular order) – all views are my own and the bikes have only been tested to meet my criteria above , other opinions may differ significantly:
Yezdi Scrambler – the bike felt good but the suspension was a little firm, the bike also sits low and I wanted a bike not hiding under my frame. The knuckle guards fitted to the show bike were cheap quality. Overall I didn't feel good after checking it out. Rejected.
Honda CB 350 – the bike was fun to ride, almost perfect for my needs with Honda reliability – this was going to be the logical choice. Pre-selected.
BMW G310 GS – didn't feel special when I rode it, test bike was also a bit beat up and I rode with a friend who bought the G310 R, didn't want to spend any money either exorbitant sums for service and spare parts. Rejected.
Honda CB 200X – the engine was smooth and the ride was comfortable, but I felt it would feel right at home at 80-90 cruising speeds which was fine and it was less on-road than my budget too. Pre-selected.
Dominar 400 – already had one. Bought in 2017 and sold in 2018 with only 3k on the ODO, the bike was not intended for the city, didn't enjoy it much. Rejected.
RE Meteor 350 – good bike with a smooth engine, only downside being the waiting period, meets my requirements while looking cool. The power was on the lower side though and something just didn't connect. Rejected.
Not all KTM – ADV 250s and 390s were suitable for my use cases, so I gave the KTM showroom a pass, if I intended to hit the highways often with the bike, I would have stretched and picked up the 390 Adventure. Rejected.
All of the other remaining competitors – Xpulse, Himalayan, Yezdi Adventure – have ridden them all but again haven't connected to any – no use cases for the capabilities these bikes offer. Vstrom 250SX just launched but I didn't want to buy from Suzuki and honestly Scram 411 took my heart away.
RE Himalayan Scram 411 – the newcomer in town, I had watched it and with the positive youtube reviews that it was an everyday Himalayan – my mind was already set on it. I rode it once and was sold on low torque and suspension only. The seat was also comfortable and the seat height wasn't an issue for my 5'9″ height. Plus it was available for same day delivery and had three color choices to choose from. Pre-selected and reserved – from the bottom of the heart.
Reservation and delivery experience:
Booking was smooth, booked it on Sunday May 22 and delivered on Monday May 23, 2022. I had the option of choosing between White Flame, Skyline Blue and Blazing Black. I think bikes look best in black, so I chose the Blazing Black after looking at them all in the stockyard.
At PDI: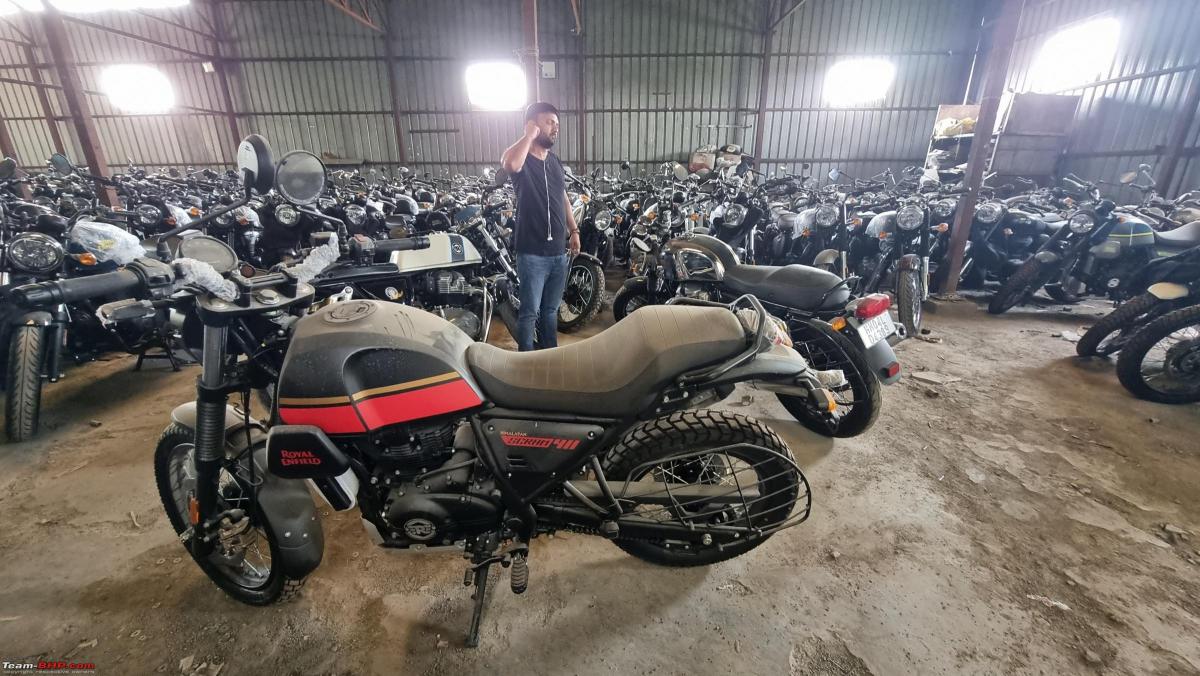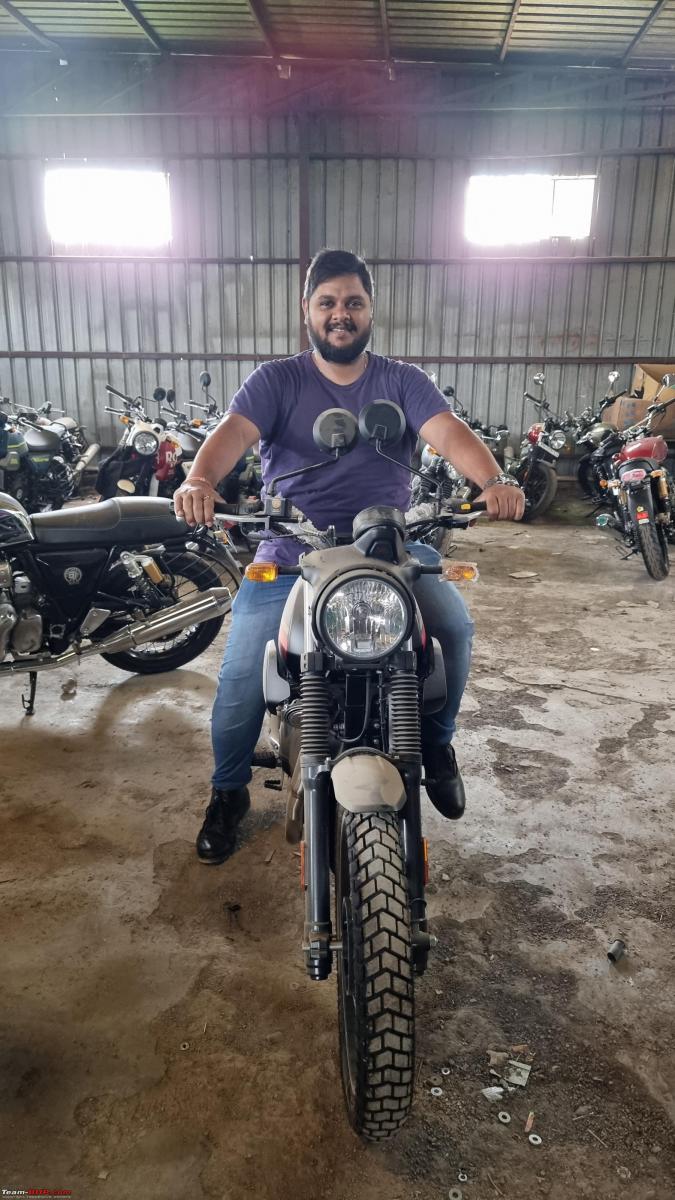 All inclusive, it cost me 2.62 lakhs with an extended 5 year warranty and a few extras – engine guard, knuckle guard, bike cover and master cylinder guard. The delivery experience was a very simple affair but honestly I wasn't expecting anything so that was fine just wanted the bike ready and go and that's exactly what happened .
At the delivery :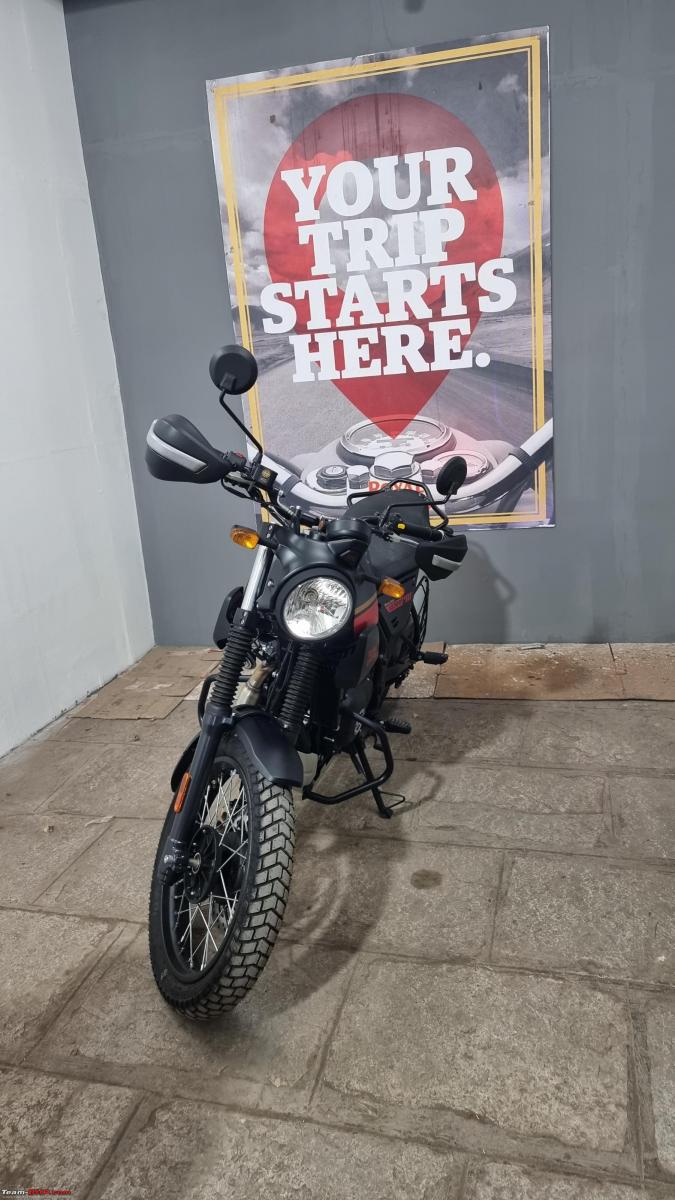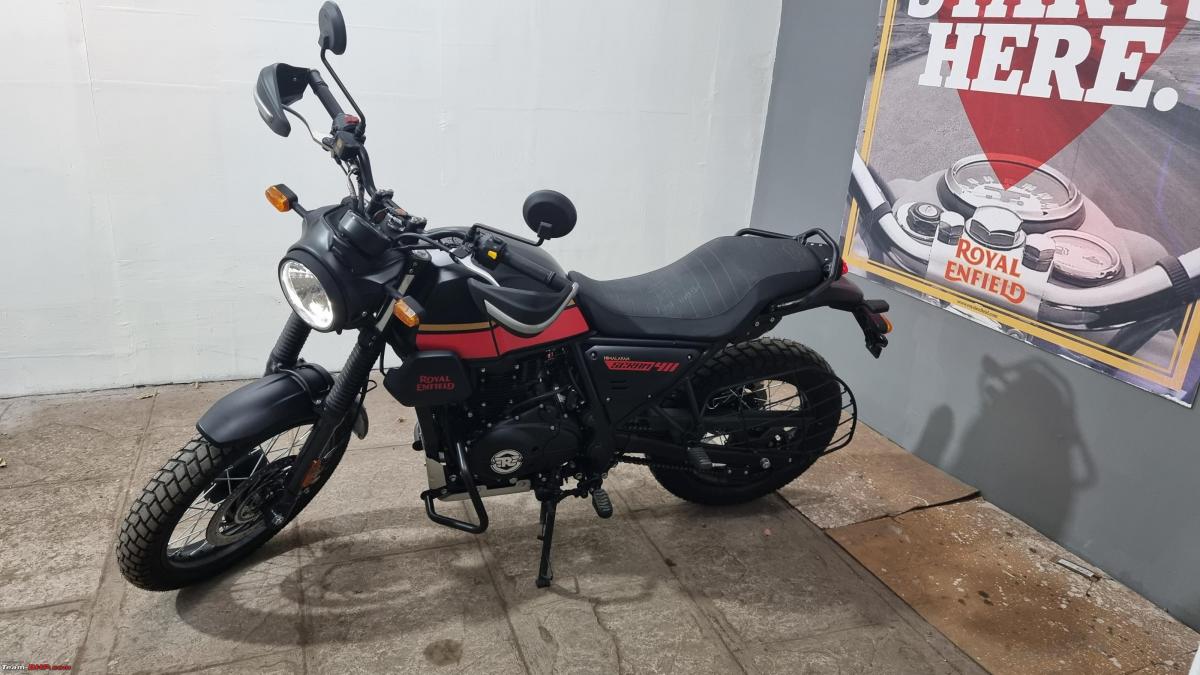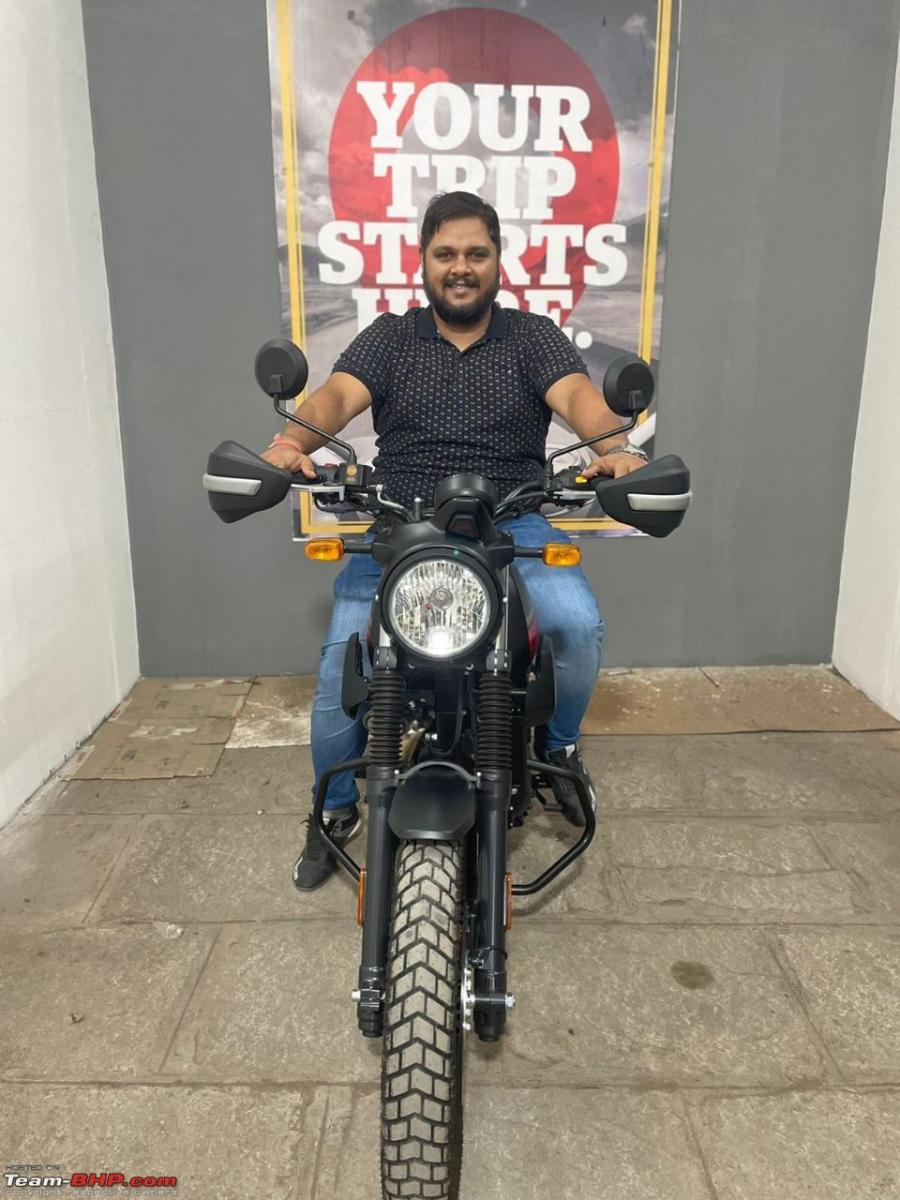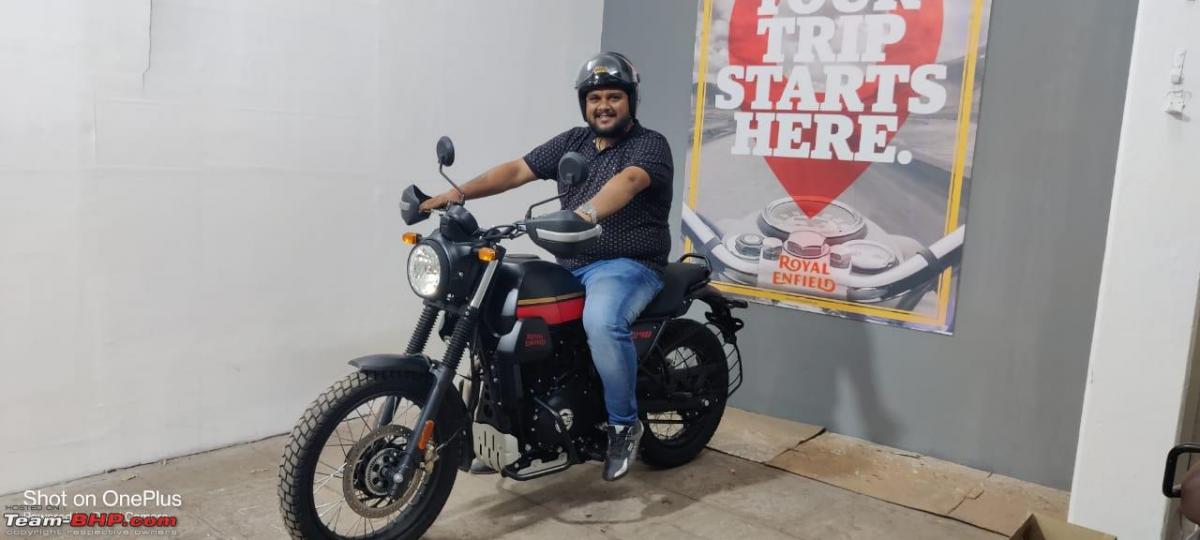 ODO on delivery: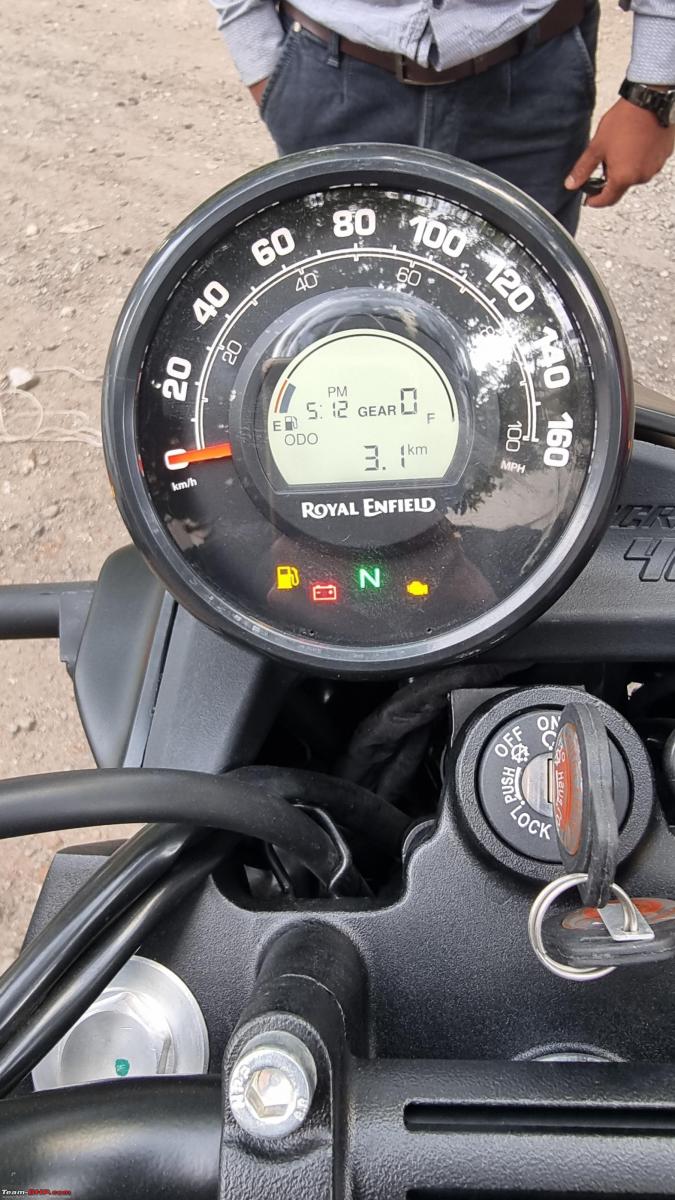 The rider's opinion: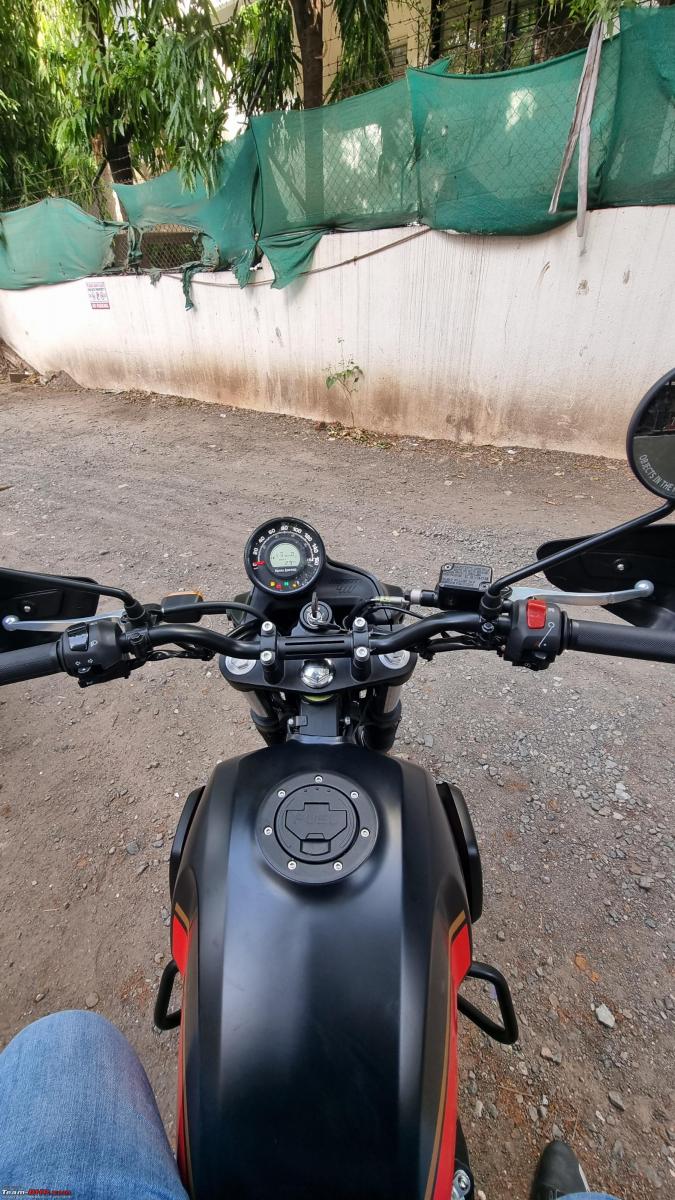 The Scram connected to me like no other connected bike in the past. It taught me a few things I never thought about until I got it. Below are some tips on the bike.
Engine and gearbox:
The proven BS6 Himalayan engine is a joy to ride around town with good low-end torque. I'm not too technically inclined, so please excuse me if I'm just explaining it in layman's terms. I can pull the bike from 20km/h in 3rd gear effortlessly and feel happy riding 60-70km/h which is the most I've taken it yet. The gearbox is also well engaged and no false neutrals yet. I've just cycled 150km so far so I'll comment on that later when I ride some more. So far I haven't felt much vibration on the handlebars or the foot pegs.
Ride and handling:
The ride is smooth, taking bad roads in its stride and not transferring jolts to the rider's spine. Heck, the ride quality on this bike is way better than my 17-inch Ford Ecosport around town. It rejects bumps and potholes like nobody else does and if you're about to hit a huge bump, stay upright and you won't feel a thing. Overlapping is also comfortable and easy on this one.
The seat is also wide and comfortable and I don't feel numb in my crotch area which I feel on other bikes after riding for a while. The bike is also nimble and easy to maneuver around town and fill those gaps in traffic. You can get in and out of traffic with ease, and the handlebars are at a comfortable height so you won't feel intimidating.
Other points are already covered in many reviews, I just wanted to give a quick overview of the points I remembered. Feel free to ask about the bike if you have any. I will share more photos and driving experiences after driving more miles. I will also share likes and dislikes at a later date – mostly after the first service.
Until then, ride safe everyone and let me Scram!
Check out BHPian's comments for more ideas and information.