Field Test: Raaw Jibb – Smooth, Quiet and Robust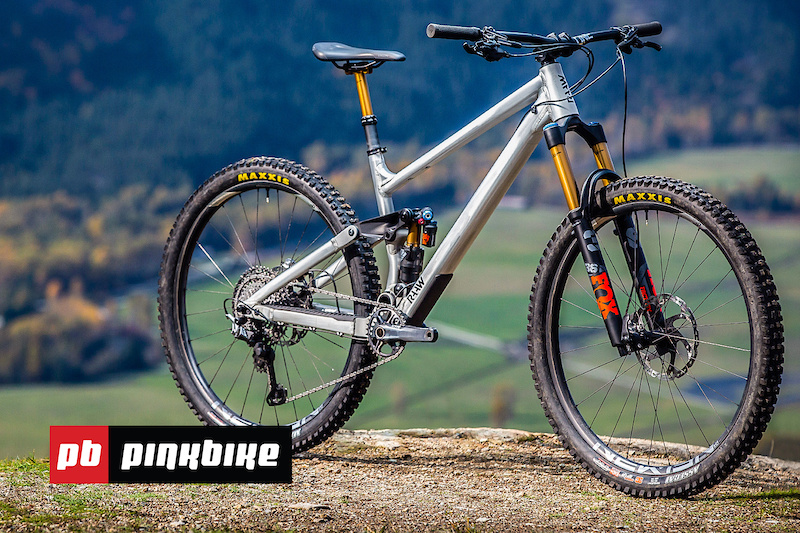 [ad_1]
PINKBIKE FIELD TEST
Raaw jibb
---
Words by Mike Kazimer; photo by Tom Richards
The Jibb is the second bike in the Raaw range, the shortest follow-up to the 160mm Madonna. The two aluminum frames are quite similar, with clean lines, a massive main pivot, and an overall utility aesthetic. The difference is in the amount of travel – the Jibb has 135mm rear travel paired with a 150mm fork, which Raaw says makes it want to "chase its tail all over the woods and mountains." Interestingly, Raaw opted for dual 29-inch wheels, rather than 27.5-inch or mixed wheel setups that tend to go with bikes that are supposed to offer a more fun riding feel.
There is something about the Raaw's aluminum frame that I think is right. It looks more like a tool than a toy, and I can appreciate the attention to the smallest details, things like covers on all the bearings to keep water out, a 203mm rear brake bracket and bearings instead of bushings at the shock absorber supports to improve sensitivity to small bumps in the shock absorber.
Raaw Jibb Details
• Travel: 135mm rear / 150mm fork
• Aluminum frame
• Wheel size: 29 in.
• Head angle: 65.5 °
• Effective seat tube angle: 77.5 °
• Range: 470 mm
• Base length: 445 (size L)
• Sizes: S, M, L (tested), XL
• Weight: 34 lbs / 15.4 kg
• Price (frame only with Float X2: $ 2634.75 USD
• raawmtb.com
The external routing doesn't look complicated at all, although the path taken by the derailleur and brake line around the main pivot could be improved. Brian Park's solution to his Madonna seemed like a good option to me.
The Jibb is available in four sizes, from small to extra large. Our large size had a 470mm reach, 65.5 degree head angle, 77.5 degree seat tube angle, and 445mm chainstays. Chainstay lengths vary depending on the frame size – small and medium chainstays are 440mm and reach 450mm on the XL. On the contrary, the geometry digits are a conservative touch compared to some of the longer and softer entries in this category.
At the moment, the Jibb is only available as a frame, with several shock options to choose from. The frame and a Fox Float X2 are priced at $ 2,634.
Our test bike was built with a build kit that left little to be desired, a very impressive mix of whimsical but not too flashy components including a Fox 36 Factory 150mm fork, Float X2 shock, drivetrain and Shimano XTR brakes, Newmen carbon wheels, and a OneUp carbon bar.
Climbing
The Jibb isn't as crisp as the Propain Hugene when accelerating out of the start line, but it is much quieter than the Ghost Riot Trail under during heavy pedaling efforts. The steep seat angle creates a very comfortable and centered sitting position which makes it an easy bike to maneuver on steep climbs. When the going gets technical – think about slippery roots and tight turns – the Jibb shines. He's a calm, determined climber, with lots of traction and a satisfying mix of stability and maneuverability.
The fire routes were sent out without any issues and I never felt the need to reach for the climb switch. While not the lightest bike, it didn't feel too slow, at least as long as the road or trail had a decent grade. On flatter trails, the Jibb can feel a bit more lethargic – the lower suspension and slightly higher weight meant it didn't have the same level of dynamism as the Scor 4060 ST or the Propain Hugene.
Descending
Let's put one thing aside: Jibb is probably not the most appropriate name for this bike. I totally agree with that fact, for reasons I will cover shortly, but if you're looking for an ultra-playful, lively bike that frolic on the trail, well, this doesn't fit. not exactly on the invoice.
Rather than being a witty, hop and poppy machine, this Jibb's cut is more focused. It's a bike that seems to have an innate nature to always end up on the correct and usually fastest line. There is a lot of grip and this close-to-the-ground nature proved useful in the wet conditions that prevailed in testing. It's solid, quiet, and like its big brother, it feels great in the corners – the relatively low bottom bracket height and moderate reach make it easy to make tight turns. This is where I really felt best, on winding sections of track and at higher speeds.
Considering how much life the Jibb seems to come to life when ridden aggressively, I wondered if a slightly slacker head angle might boost its downhill performance even more. Yes, that would bring it closer to Madonna's territory, but I think the different travel distances would help give each bike its own unique personality. That being said, it strikes a good balance between feeling like a bigger bike and staying manoeuvrable on softer, low-angle terrain.
Who is the ideal candidate for the Jibb? This is the bike for someone looking for a long-term trail partner, a bike that's built to last for multiple seasons and performs well on a wide variety of terrains. It rewards a more aggressive driving style and feels more alive at higher speeds, but overall it does a great job of handling whatever comes its way.
[ad_2]