Carson Brown's career-best sixth at Anaheim Supercross 2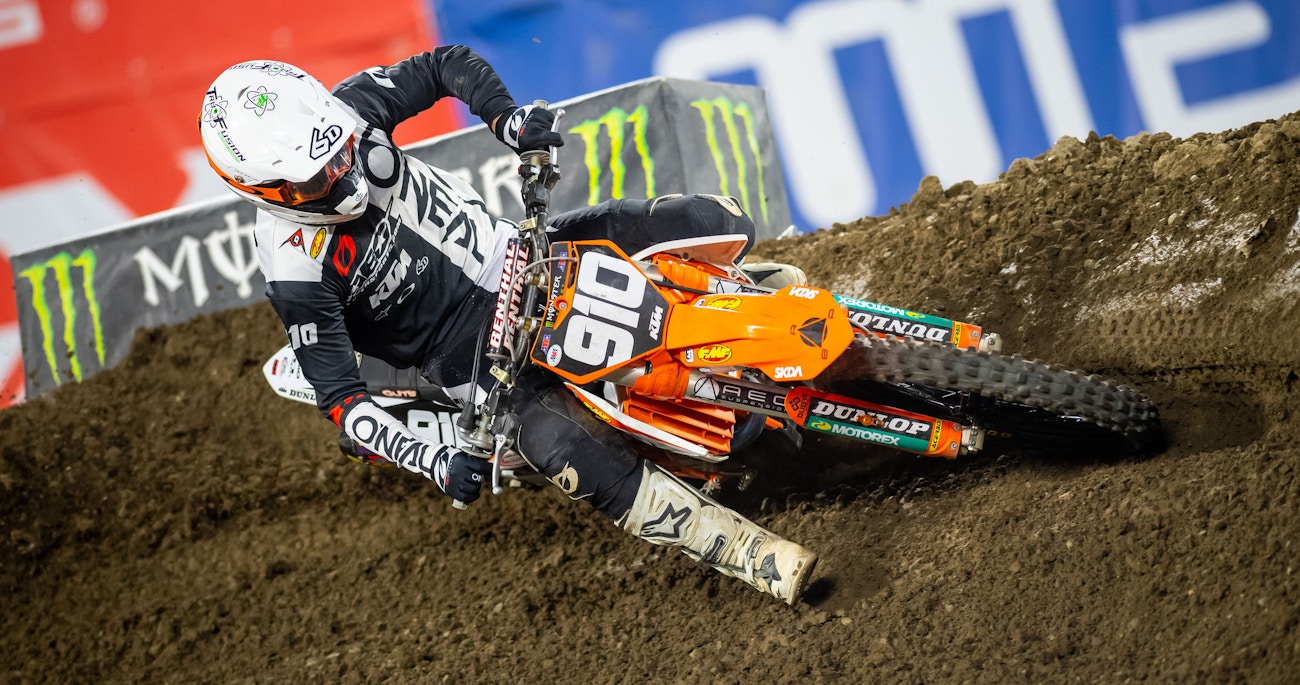 Carson Brown is the rare supercross racer who makes it in the business but is actually best known for riding away from the track. His skills on pit bikes and two-strokes, any kind of dirt bike, really, are legendary, and you can follow the madness on his Instagram account (@carsonbrown_910), where he rips on RM85s, KDX200s and CR125s.
We checked in with Brown last summer when he tore up a two-stroke at the Washougal National.
At one point, Brown was going to try a Yamaha YZ125 in supercross this year, which would have been two two-strokes with Gared Steinke. Then the AEO Powersports KTM Racing team called Brown with a 250F offer. Austin Black had been injured and Brown was given a replacement lap. Brown crashed out at Anaheim 1 but has since gone 13-10-6 in all three races. Sixth place at Anaheim is a new career high. Brown spoke to Steve Matthes after the race.
Runner X: Carson Brown! Sixth place! You must be thrilled!
Carson Brown: Yeah, we actually had a pretty tough day in practice and qualifying. I was thrilled to turn around in the heat race, got off to a good start there and finished fifth there. I had a good gate choice for the main, and I just kind of moved up to sixth, there were a few guys that passed me a few guys that fell and honestly I just stayed up , rode steadily and had the best night I 'd had in a long time.
Where do you do some math? To look at [Jo] Shimoda and Vince [Friese] [crashing] and think about where you might end up?
Yeah, I knew the guys would fall at the end of the race at some point, I didn't know when. I saw Jo's pit board say he was sixth, and I saw [Jalek] Swelling not so far ahead of me the last few laps. I put a charge at the end but didn't quite get it. Hopefully we can get him into the top five in the last two rounds.