Buying a superbike: Honda CBR 650R vs Kawasaki Ninja 1000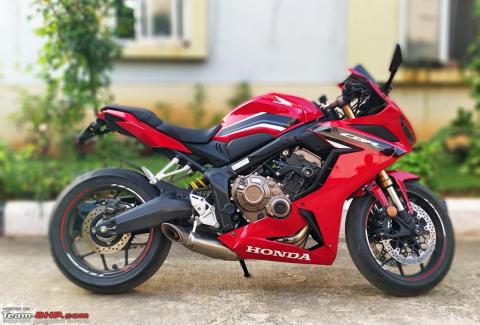 [ad_1]
I have been riding for over 20 years and have owned motorcycles like Kinetic Honda, Bajaj Caliber, Hero Honda CBZ, Honda Unicorn, Bajaj Avenger, and Honda CBR250R.
BHPian aneesh2M recently shared this with other enthusiasts.
I am creating this thread to seek advice and help from you on purchasing a new superbike.
I have been looking for a superbike for 1 year but could not get one for reasons like blockages and the bike I was looking for was not released on the market.
Before I get into the new cycling requirements, let me tell you a little bit about my driving history. I am based in Pune and have been driving for over 20 years and owned motorcycles like Kinetic Honda, Bajaj Caliber, Hero Honda CBZ, Honda Unicorn, Bajaj Avenger and Honda CBR250R. Kinetic and Caliber are now sold. I still own the rest of the bikes and CBR 250R is my current highway ride. I have owned the CBR since December 2012 and now I want to upgrade to something with more power.
Now back to the subject. I had fixed my purchase decision on HONDA CBR650R but unfortunately by the time I was able to book it in the BS4 version, the same was sold out. I waited almost a year and a half for the new BS6 version to launch and when it finally released in BS6 version I had a big shock with 2 things. One was the price, which is a bit too expensive for a 650cc motorcycle can justify and the second was HONDA's stupid policy of not selling it in my town Pune. So I have to buy it and have it repaired by Big Wing Mumbai. About 150 km one way from my home.
Looking at this, I decided to skip the CBR (it wasn't a very easy decision), increase my budget, and buy a Ninja 1000SX which costs almost Rs 3 lakhs more than the CBR. Still, I felt I had to stretch the budget and go for it as this is a 1000cc machine and with a lot of loaded features.
I was almost in the mood to book the same and here is a review of 'abhisheksircar' on its 2021 CBR 650R. After reading it, my mind started to swing again and say to me "Go for the CBR650 because after all, HONDA is your first love and what will you do with 1000cc on Indian roads, the CBR650 is your bike ". So now I'm in the spirit again and all of my thoughts regarding getting a Ninja are now shaky. I know Ninja has a better package for the price we pay, but one of my minds tells me that the CBR is more practical because 70% of the features and the potential of 1000cc will never be used by me on the roads Indian. IMO 9.5 Lakes is the best justified maximum price for the CBR650R, but I think about that extra one lakh premium or so to pay for the CBR 650R as the price to get the Honda and long term ownership cheaper. (I know Kawasaki are just as reliable as Honda, but long term service and spare parts like brake pads, spark plugs, chain / sprocket are much cheaper at Honda than at Kawasaki ). Also, while there are many features and electronics on Ninja that make it a nice set to own at the price, they may not be used nearly 70% of the time on Indian roads. And taking my bike on the track is a possibility of 5% max.
So friends, I am with great confusion in my mind seeking your valuable advice on the big buy. To make things easier, I made a comparison matrix for the two bikes given my usage. Please browse it. The yellow shows the benefits of Ninja but which can be happily experienced in CBR as it is not a big deal for my riding style. Green is the definite advantage of the CBR650R and orange is a definite disadvantage of the CBR650R.
Thanks in advance.
Here is what BHPian aargee had to say about it:
My choice will be CBR 650R for the following reasons:

Additional 3L for an SBK and use a maximum of 50% of its potential compared to the 80% potential of the CBR 650R
SBK maintenance costs and spare parts are always more expensive in the long run compared to average weights, resulting in significant savings in the long run
The extra cost of purchasing the 1000SX can be put to good use to purchase some fantastic riding gear.
The ASC is far? Good opportunity to drive + maintenance will only be once a year
And if you are a good pilot, the driving modes rarely make the difference
More features? More electronics? Not fun when electronics turn off, expensive repairs not covered by insurance
Here is what BHPian GoBlue had to say about it:
I would recommend the Ninja 1000 (liter class) over a 650cc if the budget allows.

You may become disappointed with the 650cc after awhile.

There really is no replacement for moving. It is a myth that power cannot be used on our roads. When it comes to speed, acceleration is fun on liter class bikes, by comparison, the CBR650R's engine would need some revving to get the most out of it.

There's really no point in spending money on the CBR650R, to begin with, just selling it and spending more money on faster upgrades after a few years.

It's a myth that Honda's service is cheap. Besides the first 3 services which have free labor, the other services are semi-annual paid services. You end up paying as much for two paid services of a 650R as for a Triumph Street Triple (annual service). Also note that you are paying for a Honda that is overpriced by 1.5-2L, so any maintenance cost savings have already been offset by the higher acquisition cost. The price of the BS4 CBR650R was reasonable, the BS6 is surely too expensive.

In addition, the CBR650R does not have any modern equipment. This is NOT a high-end bike (buzzing motor in the mid-range, lack of adjustable suspension, no TFT, no electronics or IMU-based rider aids), while the N1K feels better in terms of build quality and refinement. Even the ride quality is much better on the N1K (with adjustable suspension).

Kawasaki maintenance is in Pune, while Honda is to be serviced in Mumbai – but that shouldn't be the criteria for selecting or rejecting a motorcycle. I would suggest choosing the best product overall which is definitely the Ninja 1000. Buying a better product can bring long term satisfaction.

If you're ok with a roadster, the Triumph Street Triple 765R is a much better package than the Honda. The Triumph 765 Triple has a much higher engine refinement than Honda's 650cc four-cylinder.
Here is what CRAZY DRIVER BHPian had to say about it:
To be fair, this spreadsheet makes it look like you're trying to convince yourself that CBR is the best deal.

Personal opinion – No! Get the Ninja and make up the extra 2.5 lakhs on long term ownership. Heart on mind.

Some of your sets of considerations and my opinion on it:

Engine – 650cc against 1000cc. You only considered horsepower, what you'll be missing later on is torque, handling, and refinement – all of which are better on the Ninja IMHO.
Sophisticated Electronics – Not for use when needed, it's to save the bike when it is critical – things like ABS in the corners and tilt sensitive IMU can make the difference between staying on the road or ending up in the grass. Of course, that's okay for a pro!
Maintenance Costs – If you keep the motorcycle for a few years – the parts that will really affect ownership costs are – 1. Tires 2. Chain 3. Oil change and 4. Labor costs and 5. Brake pads. The only significant difference for CBR will be in terms of labor costs.
Fuel efficiency – Not going to be much different – with 1000 operating relaxed at highway speeds similar to the 650. I think 20-21 for the CBR and 18-19 for the Ninja 1000 from what I remember, but the owners can correct me here.
Here is what Ax BHPian77 had to say about it:
Between those two bikes, I'd say Ninja 1000 any day of the week. There just aren't two ways about it. I say this without going into your driving abilities or driving history (aware of Manson's valid point).

PS: Never let an XLS sheet tell you which bike is "right" for you. Just my two cents. Go up each one and then decide.

PS: If you need a discussion thread to offset Abhishekdircar's excellent writing, please read Karthikk's excellent Ninja 1000 property discussion thread. While just a disclaimer – as Karthikk writes, it might. sell a unicycle to Lieutenant Dan of Forrest Gump.
Check out BHPian's reviews for more ideas and information.
[ad_2]